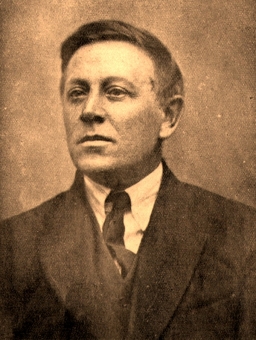 Symon Vasylyovych Petliura (Ukrainian: Си́мон Васи́льович Петлю́ра, Russian: Симо́н Васи́льевич Петлю́ра; May 10, 1879 – May 25, 1926) was a publicist, writer, journalist, Ukrainian politician, statesman of the Ukrainian People's Republic, and national leader, who led Ukraine's struggle for independence following the Russian Revolution of 1917 (1918-1921).
On May 25, 1926 Petliura was slain with five shots from a handgun in broad daylight by the Russian anarchist of Jewish origin Sholom Schwartzbard in the center of Paris.
Petliura has evoked contradictory judgments; he has been seen as a "freedom fighter who tried to protect Jews", a "bloody anti-Sovietterrorist who tried to create hatred between Ukrainians and Russians" and he has been held responsible for pogroms.