An annotative board was opened to the political prisoner, the member of the OUN Volodymyr Manyukh
Tuesday, 30 December 2014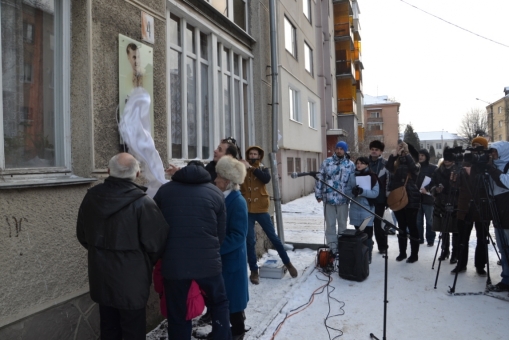 On December 30, 2014 there was opened and sanctified an annotative board to our famous scientist, a public figure and a political prisoner Volodymyr Manyukh in Ivano-Frankivsk.
The annotative board is placed and opened in the framework of the city program "Ivano-Frankivsk – the city of heroes." The relatives, friends and people who knew Volodymyr Manyukh were present at the opening ceremony of the board to the outstanding citizen of Ivano-Frankivsk.
Volodymyr Manyukh graduated Stanislaviv High School and Lyceum of Natural Sciences. In 1940 he entered the Lviv Medical Institute. In 1944 he interrupted his studies and joined the ranks of the Ukrainian Red Cross (URC) of the Ukrainian Insurgent Army (UIA). On behalf of the URC he organized a mobile hospital of the UIA in Strilyska Stari village. In 1945 he entered the Stanislaviv Medical Institute and worked at the Department of Comparative Anatomy. After graduating it with honors (1947) he worked as a researcher at the Department of Surgery.
Although Volodymyr Manyukh came from a simple family from Galych, he was a very educated and erudite man. While working in Ivano-Frankivsk Regional Hospital he remained above suspicion of the Soviet Special Forces. Often at night, being accompanied by the insurgents, he set out on a dangerous journey to the forest bunker or a peasant house to provide first aid to a seriously wounded Ukrainian insurgent. There was also equipped a secret ward at the regional hospital where Volodymyr Manyukh and his colleagues performed more than 150 complicated surgeries.
A former secretary of Ivano-Frankivsk City Council Ruslan Martsynkiv, who was the initiator of the program "Ivano-Frankivsk – the city of heroes", pointed out in his speech that the personality of Volodymyr Manyukh was the pride to Ivano-Frankivsk, and his sacrificial life - the example for today's generation.